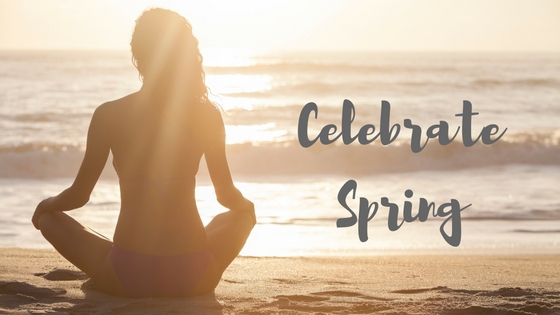 CELEBRATE SPRING
Now is the time to celebrate the arrival of spring. As we move away from the hibernation of the winter months, spring invites us to open back up.
We say goodbye to short days and early darkness, warm comforting foods and extra kilos.  We welcome the sun rising earlier, the weather starting to warm, we see new growth and renewal.  Not just in nature around us, but in ourselves too.
Time for a spring clean?
In Ayurveda, spring is a time for cleansing, the body, mind and soul.
YOGA
Build energy in your mornings by waking early and practice sun salutations to the rising sun.  Jump start your digestion and aid in detoxification by adding twists and forward folds into your sequence.
+ Twists help to detoxify by wringing out our internal organs, as a flush of new blood is released into them.
+ Forward folds regulate water and emotions in the body by helping to tone the kidneys, and the bladder.
DIET
Time to move away from the heavy comfort foods of winter and replace them with lighter foods like;
+ Leafy green vegetables, onion, garlic, sprouts, mushrooms, peas and carrots
+ Berries, peaches, pears, limes and apples
+ Oats, buckwheat, quinoa and amaranth
+ Lentils, kidney beans, navy beans
+ Dairy in moderation – yoghurt, cottage cheese and cottage cheese
+ Freshly squeezed juice, mainly vegetable with a small amount of fruit to sweeten.
WELLNESS
Make yourself a priority! Develop a daily ritual.  This is something that is non negotiable – your essential self care.  It can be something small that you do everyday, mindfully;
+ Light a candle
+ Dry body brush before your shower
+ Self massage with your favourite body oil after your shower
+ Diffuse essential oils
+ Having a mindful cuppa – being aware of the taste, the smell, the feel…..
So spring clean the house, spring clean the body, and spring clean the mind.  You will feel so much better, lighter and clearer.
" Clear out what isn't serving you in life anymore,
and make room for what will."